241-P-30
Builder
Etablissements Schneider au Creusot
Year built
1951
Works number
4932
Weight in working order
212,2 tonnes (with tender 34 P)
Length over body
27 117 mm (with tender 34 P)
Maximum speed
120 km/h (66 mph)
Boiler pressure
20 bar (300 psi)
Power
4000 CV
Grate area
5,05 m²
Driving wheel diameter
2020 mm
Fuel capacity (with tender 34 P)
Coal - 12 tonnes
Water - 34 m3 (7'473 gallons)
Wheel arrangement 2'D1'h4 : Quick passenger locomotive with over heated steam and four compound cylinder
Automatic feeding of coal by stoker.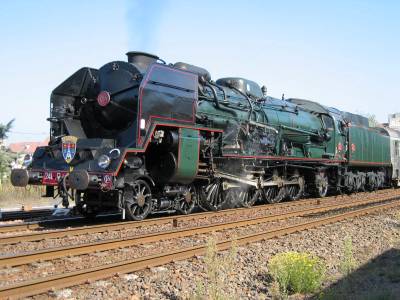 241-P-17 the 16th of September 2007 in Montceau-les-Mines. Picture Georges Ravay


241-P-17 the 16th of Septerber 2007 near the pond of Torcy. Picture Georges Ravay
241 P 30 :
In service until the 12th of November 1969 in Shed of Le Mans. It was acquired in 1972 by the town of Vallorbe which exposed it on a place of this locality, below the station. On the 11th of June 1997, the association TMC moved it in the shed of Vallorbe, with an aim of giving it in service like the 241 A 65 already in their possession. On the 11th of July 1999, the P 30 is transferred to Pratteln by the 241 A 65. At the beginning of 2003, TMC having voted its dissolution, in facts the VVT becomes the new owner of this machine and transfers it in its shed in St-Sulpice on the 21th of August 2003.

241-P-17 the 16th of September 2007 in Montchanin. Picture Georges Ravay
Other preserved Machines :
241 P 9

In service until the 20th of November 1973 in Le Mans,
now by AAATV (Friendly of Old and Friends of the Steam Traction)

241 P 16

In service until the 20th of November 1973 in Le Mans.

241 P 17

In service until the 14th of May 1971 in Le Mans.
After revision, in working order in Le Creusot since 2006


17.09.1974, Bordeaux ... last journey to Guîtres


Guîtres, 08.2003


Museum of Mulhouse

This locomotive was indicated vith the P 9 for the bood-byes with the vapor in 1971 (Western area) and 1972 (S.N.C.F.). None of these engagements will be concretized. Given in state by its last shed, then by that of La Rochelle, it will join the Museum of Mulhouse in 1981.

Holder of the kilometric courses highest. The municipality wanted to set it up in monument to the glory of its industrial past; the project was not concretized ... fortunately tor the state of conservation of the machine. Since this date it is parked in Le Creusot where the members of CFC started his restoration.


During its long stay of 1971 to 1992 in Le Creusot


2000, Le Creusot


10.11.2003, Le Creusot
Foto Christian BEALLE (L'Echo du Rail 253)
Year built
since 1943
Builder
Beaume et Marpent;
Cie générale de Construction à Saint-Denis
Cie Française de Matériel de Chemins de Fer
Decauville, Somua;
Entreprises industielles Charentaises
Weight empty
37 t
Water
34 m3 (7473 gallons)
Coal
12 t
finely = 10'800kg,
briquettes = 1'200 kg
Weight in working order (with tools)
84,8 t
Wheel arrangement
Axle load
2 bogies
1st and 2nd axles : 20'800 kg
3rd and 4th axles : 21'600 kg
Wheel diameter
1,247 m
Total footing
6'550 mm
Axle boxes
Timken (ou S.K.F.)
Brake
air automatic and direct Westinghouse + hand brake
Mechanical stocker standard H.T. 1
Steam heating
Remote operation of the opening of the rises of hydrant
The overall length between extreme wheels of the engine and tender makes it possible the unit to turn on bridge of 24 meters.
The whole of the tender and the engine received all the apparatuses necessary to the integral treatment of feed waters system T.I.A.



Tender 34 P 1 to 418, with unified attachment and mechanical stocker,
for use with the engines types 141 P, 240 P, 241 P et 150 P.
For supplementary information, please visit this page in french or german or ask for an automatic translation by Google
Other pages :
Link :
Other information on the French Compound Locomotives' Home Page
diagrams, sketch, photographs, description and evolution ...
Download :
Drawing locomotive with dimensions
Drawing tender with dimensions
Bibliography :
Descriptif des locomotives à vapeur type 241 P compound à 4 cylindres à haute surchauffe de M. CHAN, Ingénieur en Chef à la S.N.C.F. et M. THOMACHOT, Ingénieur aux Etablissements Schneider.
"Les locomotives à vapeur unifiées 241P, 240P, 150P" de Bernard Collardey et André Rasserie, ISBN 2-902 808-93-3, édité par

http://www.voisin.ch/vvt/ : 23.03.2008