2000-2001
Pour pouvoir travailler malgré le froid, rien ne vaut une tente chauffée ... octobre 2000
Die Kälte stört uns nicht... um weiter zu arbeiten, ist nichts besser als ein geheiztes Zelt.
To enable work to continue despite the cold, we would have liked a heated tent….October 2000.

Le moteur gauche, démonté, nettoyé et protégé ... janvier 2001

Der linke Zylinderblock ist gereinigt, mit einer neuen Schutzschicht versehen und wieder angebaut...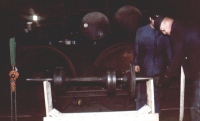 Le tiroir de distribution en cours de nettoyage ... janvier 2001
Schieber ... Januar 2001
The distribution drawer being cleaned,…January 2001.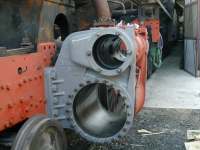 Le moteur gauche et le petit mouvement sont révisé ... juin 2001
Der linke Motor wurde revidiert ... Juni 2001
The left hand cylinder and valve gear assembly restored …June 2001.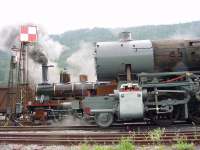 La Tigerli et la BR 52 en septembre 2001

Tigerli und BR52 im September 2001

Tigerli and the BR 52 in September 2001.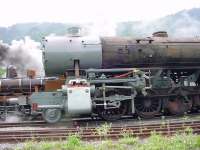 L'ancienne cabine est déposée ...

Die alte Kabine wurde deponiert ...

The old cab is removed…

... et sert d'exemple pour la nouvelle ... mai 2002
... und dient als Beispiel ... Mai 2002
... and serves as a pattern for the new one…..May 2001.
http://www.voisin.ch/vvt/ : 17.06.2006