241-A-65

Builder
Fives-Lille
Year built
1931
Works number
4714
Weight in working order
200 t
Length over body
25,96 m

(85 feet 3 inches)
Maximum speed
110 km/h (61 mph)
Boiler pressure
18 bar (270 psi)
Power

2600 hp to 3500 hp, depending on sources

Grate area
4,43 sq meters
Driving wheel diameter
1950 mm (6 feet, 4 inches)
Fuel capacity
Coal - 9 tonnes. Water 35 cu m

241-A-65 the 25th of August 2007. Picture Georges Ravay

June 1991 in Auvernier, Journey to St-Maurice for the 700 years of the Swiss confederation. Picture Philippe Jampen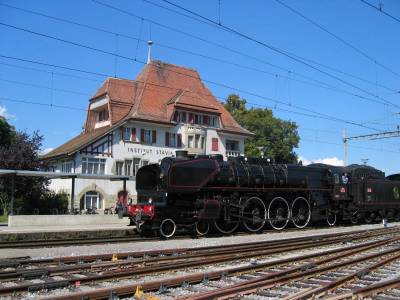 241-A-65 the 25th of August 2007 train 33361 Estavayer - Neuchâtel - Gümligen. Picture Georges Ravay
This massive loco was one of a series of 90 machines, built between 1926 and 1933 by Fives-Lille and ASFCM (Graefenstanden, Alsace). 41 ran for the East Railway (compagnie EST), 49 for the state company.
After the foundation of SNCF in 1938, these locos were renumbered as 241-A-1 to 90, then put into service on the region of the former EST railway. It was then that this machine first carried the number 241 001, then 241 301, before becoming 241-A-65. The last locos were retired from traffic during the years 1960 to 1970. The Mulhouse Museum has 241-A-1, the prototype of Epernay Works, which is currently not working.
The peculiarity of the 241-A was in their combined 4 cylinder drive mechanism, one of the largest of the du Bousquet/de Glehn ever built.
The 214-A-65 ran on the SNCF network until 23rd July 1965. Thanks to Monsieur Armin Glaser, this machine, testimony to European technology, arrived in Switzerland in 1968, escaping the scrapman. In 1979 this locomotive was restored externally by the inspection staff of the depot at Zurich and then went on show at the Transport Museum in Lucerne.
In 1982, Oswald Steam of Samstergen recaptured this locomotive and kept it until it's arrival on the VVT in 1989.
Not being able to undertake the complete overhaul in it's depot, the VVT searched for a sponsor, whilst overhauling certain parts of the machine. In 1996, Monsieur Urs Wettstein took this locomotive and put it through a general overhaul at Meiningen Works in Germany before returning it to service on the 22nd September 1997 for special train workings.

Since the Ist April 2000, this locomotive has been stored at Burgdorf. On the 1st April 2003, Monsieur Wettstein offered it to the 241-A-65 Association

The actual information concerning this splendid locomotive (the largest working loco in Switzerland) can be found on the following site : http://www.241a65.ch
Download :
Links :
http://www.voisin.ch/vvt/ : 27.12.2007